Next-Generation Performance
Made from high-quality materials like Bi-facial Hetero Junction Cells between tempered glass, Solarium Glass-on-Glass modules are exquisitely designed. You'll quickly realize there is much more than meets the eye. Solarium has created a solar panel that's as remarkable on the inside as it is on the outside. With the power of high-efficiency HJT cells coupled with latest technology, the true beauty of the our Modules is blending efficiency and elegance for a new dimension of solar.
Dual Glass solar modules represent a technology where solar cells are encapsulated between two glasses. This type solar modules are more durable, have longer life-span compared to other technologies. In BIPV glass modules act not only as a construction, but also as an architectural element. Moreover, dual glass concept allows to utilize bi-facial solar cell technology, thus increasing the maximum power gain from the same surface area.
BIPV Modules uses heat-strengthened glass instead of the traditional polymer back sheet, and it has no metal frame so it requires no grounding. This eliminates the cause of Potential Induced Degradation (PID) and the panel can withstand high humidity, high temperatures, sandstorms, ultraviolet and corrosion, all of which translates to a product as hardy and brilliant as the stone.
Dual Glass modules from Solarium are for those, who are looking for high performance, durable products with long lifespan. Wide range of customization options will allow architects and urban furniture designers to reach the ideal ratio between aesthetics and performance.
Hetero Junction Cell Technology
The bifacial cells we use in this module contribute to power generation with their active backside. The rear of the cell contributes to generation, just like the front; the light beam reflected from the rear of the module is reabsorbed to generate additional power. In addition, our Modules has a particularly long service life thanks to the use of glass on the front and rear of the module. This glass-glass technology also ensures a high mechanical strength and a low degradation behavior.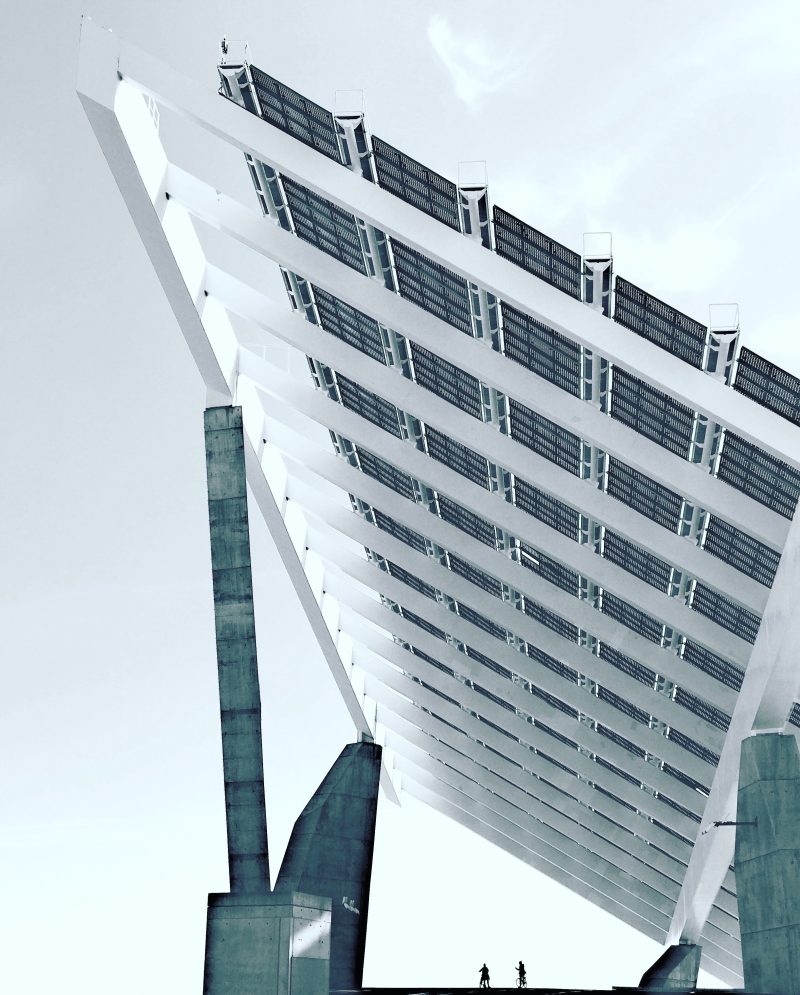 All Around Profitable
Our BIPV Modules are completely profitable: It is a double-sided active solar module and converts light from all directions into electrical energy. This ensures up to 25% more yield per installed kWp. Thanks to the use of the latest glass technologies, it also has a particularly long service life and high mechanical strength.
Optimal On A Large Scale
Our BIPV is particularly suitable for open space systems and flat roofs. If the solar module is used on surfaces such as light concrete or white foil, more light is reflected in the module and the power output is increased additionally. The lighter the surface, the more power is generated. But even on non-optimized substrates, such as meadow, sand or trapezoidal sheets, the bifacial module already produces more power than comparable standard modules.